The Young European Ambassadors presentation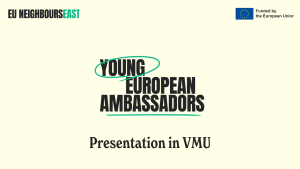 The Young European Ambassadors (YEAs) initiative is a non-political, voluntary, vibrant network connecting and building bridges of friendship among young people from Armenia, Azerbaijan, Belarus, Georgia, the Republic of Moldova, Ukraine and the EU Member States and the United Kingdom. The aim of the network is to raise awareness about the EU's cooperation with its Eastern partner countries, showcase the tangible results of this cooperation, contribute to policy dialogue on various topics, help increase civic activism and work together for a better future.
Come to offline presentation in the VMU where Young European Ambassadors from Ukraine and Belarus introduce you with their ways to membership, share their ideas of new projects for this year in the EU and our region in particular and describe how to apply and become one of them soon.
When: 23 05 2023, 15:00 p.m.
Where: V. Putvinskis str. 23 – 110
We hope to answer all questions that you will prepare for us!
More info about presenters:
https://euneighbourseast.eu/young-european-ambassadors/ambassadors/usevalad-lahun/
https://euneighbourseast.eu/young-european-ambassadors/ambassadors/sofiia-bohdanova/