Scientific journals
Faculty publishes five scientific journals.
Agora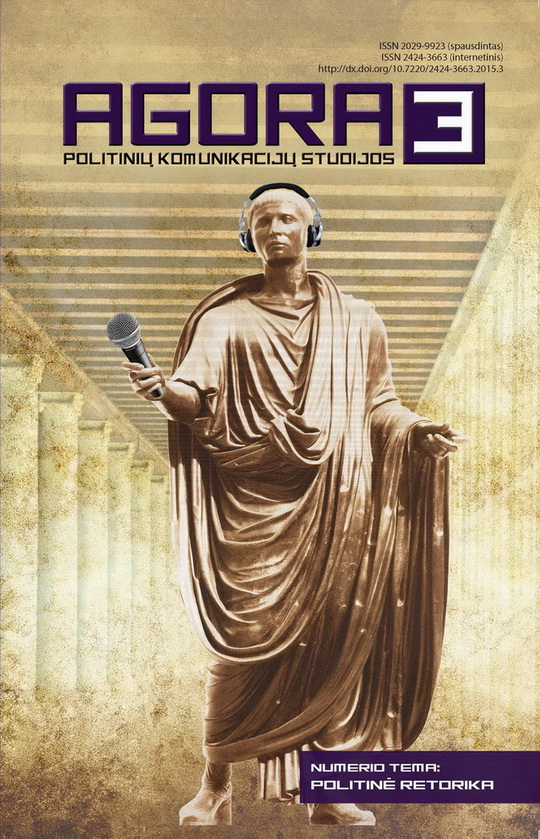 Peer-reviewed journal Agora gathers Lithuanian researchers working in the field of social, political and humanitarian sciences and pursuing the analysis of the phenomenon of political communication. Editors hope to establish the open space for the relevant scientific dialog, the contemporary dynamic analog of the ancient Agora.
Publication frequency: 1 issue per year
Publication language: Lithuanian
Editor in chief: prof. dr. Lauras Bielinis.
Baltic Journal of Law & Politics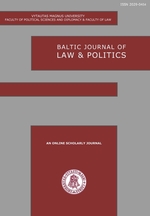 Peer-reviewed journal provides a platform for the publication of scientific research in the fields of law and politics, with a particular emphasis on interdisciplinary research that cuts across these traditional categories. Topics may include, but are not limited to the Baltic Region; research into issues of comparative or general theoretical significance is also encouraged.
The journal is committed to the quality of every article from the initial stage of inquiry to the date of publication. The journal provides fast, fair and constructive peer review by specialists in their areas from all over the world. Authors receive editorial assistance in adjusting their manuscripts to the standards of the journal as needed. Submissions from all corners of the fields of law and politics are encouraged, especially research that locates itself at their intersections.
Publication frequency: 2 issues per year
Publication language: English
Editor in chief: doc. dr. Tomas Berkmanas.
Lithuanian Foreign Policy review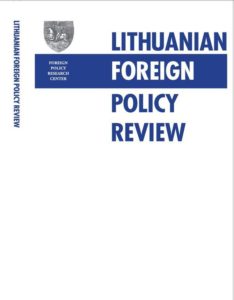 Lithuanian Foreign Policy Review is peer review journal which aims to publish research articles on foreign and security policy of small states and middle powers, especially focusing on Central Eastern European and Northern European regions.
It is published twice a year in cooperation with the Faculty of Political Science and Diplomacy of Vytautas Magnus University. Financially, the journal is supported by Lithuanian Ministry of Foreign Affairs, editorially, it is independent open access publication.
Publication frequency: 2 issues per year.
Publication language: English.
Editor in chief:  dr. Gerda Jakštaitė
 Media Transformations
Media Transf
ormations is a peer-reviewed academic journal of communication, media and journalism studies, that focuses on structural changes in the media, the changing role and functions of media in relation to society, and comparative aspects of media's own multiple and diverse transformations.
Media Transformations invites papers addressing a wide range of topics related to global and local transformations of media systems and journalism practices, particularly structural and cultural changes in the media, technological diffusion and convergence of media industries, commercialization and homogenization of journalism, changing media values and policies, journalism training and media education, and media and cultural industries.
Publication frequency: 2 issues per year
Publication language: English
Editor in chief: prof. dr. Auksė Balčytienė.
Political Science Almanac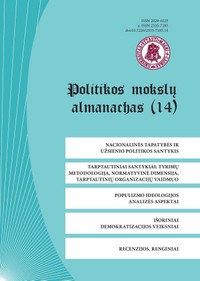 Peer reviewed journal presents a great variety of scholarly articles that focus on numerous aspects of the multi-leveled analysis of certain political phenomena. Extensive reviews of important works related to political science and commentaries on significant scholarly events are frequently offered, too. Top priority is given to relevant and innovative academic articles which are devoted to the conceptual analysis of national, regional and international issues. Much attention is also paid to significant theoretical insights or interesting scholarly perspectives. The editorial board actively supports the aspirations of young political scientists by publishing their original research works in the challenging field of political science.
Publication frequency: 2 issues per year
Publication language: Lithuanian and English
Editor in chief: doc. dr. Andžej Pukšto.