Jean Monnet Chair
Jean Monnet Chair – General Description 
A Jean Monnet Chair is a teaching post with a specialization in European Union studies for university professors. It can only be held by one professor, who must provide the minimum of 90 teaching hours per academic year over a period of three consecutive years. In addition the Chair must carry out at least one additional activity per academic year.
Main activities (minimum of 90 hours per academic year):
deepen teaching in EU studies in an official curriculum of a higher education institution
provide in-depth teaching on EU matters for future professionals in fields which are in increasing demand on the labour market
Additional activities:
provide teaching/lectures to students from other departments (e.g. architecture, medicine, etc) to better prepare them for their future professional life
encourage, advise and mentor young teachers and researchers in EU studies subject areas
conduct, monitor and supervise research on EU subjects for other educational levels such as teacher training and compulsory education
conferences, seminars/webinars, workshops, etc. targeting policy makers at local, regional and national level as well as civil society
Jean Monnet Chair – Project Description 
EU, internal Europeanisation and Small States
Project focuses on development of excellence in research and teaching on EU and production of knowledge about EU phenomena, raising European awareness and publicly communicating, promoting Jean Monnet activities to students, young professionals, NGO members, experts and politicians, officials, NGO members, teachers, journalists and pupils. The project aim at improving academic and professional lives, European awareness and civic skills in Lithuania. The project will also promote the knowledge of Jean Monnet Chair activities in Lithuania and abroad.
Main activities of the project:
Teaching university courses on Western European Politics and Europeanisation, Scandinavian Politics and Small States with focus on the EU
Co-organisation and participation at Conferences, seminars debates and workshops with participating ministries, Nordic and other Western embassies, European Parliament Liason Office and Representation of European Commission in Lithuania and other relevant parties
Organisation of EU ambassadors' in Lithuania and Lithuanian politicians' lectures on European issues at Vytautas Magnus University
Publishing scholarly articles on Baltic regional identities, selection of party leadership and elections to the European Parliament
Commenting on EU developments and political processes in Lithuania for media
Incorporation of EU-related teaching aspects at universities in Ukraine within the EU Key Action 2 project "Rethinking Regional Studies: the Baltic-Black Sea Connection"
Provision of offers for PhD Candidate's research in Lithuania on EU-related topics
Participation in the Erasmus+ teaching exchanges
Update of the Master study programmes "Diplomacy" and "Nordic and Baltic studies"
Organisation of seminar on the profile and dissemination of project results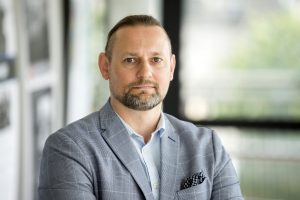 Project Activities
2020
25.09.2020 In autumn semester, 120 students follow Prof. Jurkynas courses (Lithuanian political system and tradition (BA, 30 hours) – 62, Scandinavian politics (BA, 30 hours) – 39 and Political systems (BA, 30 hours) – 19.
07.10.2020 Commentary "Who to vote for?" https://www.delfi.lt/news/ringas/lit/mindaugas-jurkynas-uz-ka-balsuoti.d?id=85429357)
14.10.2020 Commentary "Results of the first half" (https://www.delfi.lt/news/ringas/lit/mindaugas-jurkynas-pirmo-rinkimu-kelinio-rezultatai.d?id=85488431)
27.10.2020 Commentary "Waiting for the new government" (https://www.delfi.lt/news/ringas/lit/mindaugas-jurkynas-belaukiant-naujos-vyriausybes.d?id=85585377)
05.11.2020 Virtual Erasmus+ lecturer exchange teaching at the University of Latvia (course leader – Assoc. Prof. Dr. Iveta Reinholde).
08.12.2020 Debate "Is there a Place for Democratic Change in the Future World?". Co-organised by the Faculty of Political Science and Diplomacy of Vytautas Magnus University and Elcano Royal Institute (https://www.facebook.com/VDU.PMDF/videos/393448648742796)
03.12.2020 Prof. Jurkynas taught at another faculty of Vytautas Magnus University (Faculty of Humanities) reading the BA course Scandinavian politics (30 hours, 39 students).
09.12.2020 Commentary "Confirmation of the government – much ado about nothing?" (https://www.delfi.lt/news/ringas/lit/mindaugas-jurkynas-vyriausybes-tvirtinimas-daug-triuksmo-del-nieko.d?id=85942463)
20.12.2020 Book Chapter 'From Coronation to Bear-Pit: Leadership Selection in the Party Order and Justice', 2020, in Aylott, Nicholas and Niklas Bolin (eds), Managing Leader Selection in European Political Parties, London, Palgrave, https://link.springer.com/chapter/10.1007/978-3-030-55000-4_7
2021
14.01.2021 Discussion on new government in Lithuania at the media portal 15min.lt: https://www.15min.lt/video/politiniai-sostu-karai-politologai-sako-kad-gnauseda-labiausiai-nori-buti-matomas-kaip-jam-sekasi-194788
19.01.2021 Virtual class "European Union: What's About It?" for the final-year students at Jonas Basanavičius gymnasium in Vilnius, Lithuania. 83 pupils attended the on-line event (Information according to Virginija Dudarevičienė, Deputy Principal at Jonas Basanavičius Gymnasium).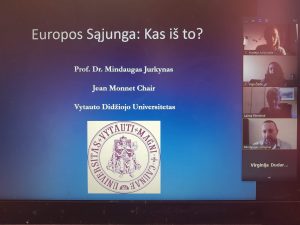 26.01.2021 President of the Republic of Lithuania appointed Prof. Dr. Mindaugas Jurkynas as a member of the Council of National Radio and Television (https://www.lrp.lt/lt/ziniasklaidos-centras/naujienos/prezidentas-lietuvos-radijo-ir-televizijos-tarybos-nariu-paskyre-m.-jurkyna/35381)
01.02.2021 Rector of Vytautas Magnus University appointed Prof. Dr. Mindaugas Jurkynas as Head of Department of Political Science at the Faculty of Political Science and Diplomacy.
12.02.2021 Prof. Dr. Mindaugas Jurkynas co-organised an essay competition on Lithuanian identity and statehood at Jonas Basanavičius gymnasium in Vilnius, Lithuania (http://www.basanaviciaus.vilnius.lm.lt/?p=18613). 8 pupils participated at the competition. (Information according to Virginija Dudarevičienė, Deputy Principal at Jonas Basanavičius Gymnasium).
15.03.2021 The article of Prof. Dr. Mindaugas Jurkynas has been published: "Change in a time of pandemic: the 2020 parliamentary elections in Lithuania (2021), Journal of Baltic Studies, Published online 15 March 2021, https://www.tandfonline.com/doi/full/10.1080/01629778.2021.1901754 pp. 1-10.
19.03.2021 Vytautas Magnus University, Eastern European Study Centre, Nordic embassies and Nordic Council of Ministers Office in Lithuania have co-organised the 6th annual conference (webinar) on Nordic-Baltic cooperation, focusing on the Arctic region. Prof. Dr. Mindaugas Jurkynas has been among the co-organisers and one out of two moderators at the conference. During the event, around 60 people on Zoom, as well as around 400 unique visitors on  Facebook followed the webinar. The broadcast reached over 3000 users on Facebook. The event was also wide-spread around the social  networks – this Facebook event reached almost 7500 Facebook users.(information according to Justinas Kulys, administrative supervisor of the event at the Eastern European Study Centre).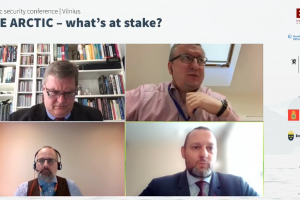 Arctic Conference 19 March         https://fb.watch/4kidEbp_bt/
31.03.2021 Three guest speakers participated in the Vytautas Magnus University classes of Prof. Mindaugas Jurkynas. Deputy foreign minister and former Head of European Commission Representation in Lithuania Arnoldas Pranckevičius gave a talk on Lithuania's European policies in the course "Lithuania's Foreign Policy". Dr. Donatas Vainalavičius, first secretary at Lithuania's embassy in Latvia introduced the students to Latvian foreign policy from a small state's perspective in the course "Small states in international politics". Finally, Head of European Parliament Office Daiva Jakaitė presented contemporary EU challenges and achievements in the course "Western European Politics".
02.04.2021 In 2021 spring semester, 71 students follow Prof. Jurkynas courses (Western European Political Systems (MA, 45 hours) – 11, Small and middle states in international politics (BA, 30 hours) – 36 and Lithuanian foreign policy (BA, 30 hours) – 24).
06.04.2021 Prof. Mindaugas Jurkynas applied to the Faculty of Political Science and Diplomacy offering promising students to carry out a PhD research in studies of Europeanisation.
19.04.2021 Chair of master programme "Diplomacy" Prof. Jurkynas administered the update of the aforementioned master programme: posedzio protokolas 2021 04

The European Commission's support for the production of this publication does not constitute an endorsement of the contents, which reflect the views only of the authors, and the Commission cannot be held responsible for any use which may be made of the information contained therein.