A. Venckus: I am thankful to FPSD for who I have become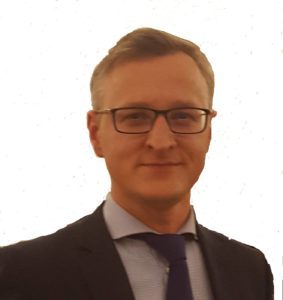 Second secretary of the Lithuanian Embassy in Germany, dr. Antanas Venckus, shares his thoughts about the bachelor's program of Political Science, the master's program of Diplomacy and International Relations and his career.
What motivated you to choose the bachelor's of Political Science, and later the master's of Diplomacy and International Relations? Why, out of the vast amount of programmes in various universities, you chose Vytautas Magnus University specifically? Was it a coincidence or a long-term goal?
In fact, it was a coincidence, I cannot say otherwise when I think about it in perspective. I wanted to study Economics in VMU, but my grades were not high enough, so my second option was Political Science. I wanted to study in VMU very much, so I was extremely happy I got into a great university that I had already heard a lot of good things about. To be honest, I didn't even think about studying somewhere else.
What did the VMU Diplomacy and International Relations degree give you?
Studying in the VMU Faculty of Political Science and Diplomacy didn't only shape my personality, but also gave me the foundation for my further career, by giving me the most important knowledge, strengthening the competences needed for my professional development. Without the foundation that I got during the first 6 years studying in the Faculty, I definitely wouldn't have the job I have now, and probably could not even dream about it.
What did you like most in VMU? What advantages could you name? Maybe something was missing?
Just like many others, I would like to underline that liberal mindset when it comes to your studies, an atmosphere of complete trust in the whole academic community. I do not think that there is a similar university in Lithuania, and that is exactly what gives the best foundation for such a good academic atmosphere. Western study methods, exclusive attention to foreign languages, lecturers that give all they have to their work and increasingly international environment – these are the significant features of VMU, that need to be nurtured, by protecting your identity among the large number of tertiary education institutions in Lithuania. This is how VMU will always be different.
What is your current occupation?
I was very lucky that after studying Diplomacy and International Relations I became a diplomat. I have been working in the Lithuanian Diplomatic Service for already 12 years, and – most importantly – I can work for Lithuania by using all my knowledge and all the abilities I have developed during my studies in the Faculty. I will always be thankful to my University and to my lecturers for that. As a sign of gratitude, I give back to the faculty: when I am in Lithuania I gladly give lectures to the master's students of the Diplomacy and International Relations study program, I teach them the details of a diplomat's life. Currently I am working in the Lithuanian embassy in Germany, I am responsible for the development of Lithuanian and German economic relations. However, I am waiting forward to the fall semester of 2017, when I will come back to the auditoriums of VMU to give further lectures to students.
Three main things, that a student should do, in order to achieve what you have achieved, or more…?
It is hard to measure your achievements, as you can always do more and better – it gives you motivation to improve and never stop. When I remember myself, just after graduating a simple high school in the Kaunas region, what helped me most was the inclusive academic environment: amazing teachers and wonderful students. It is very important for students to like their studies, and to give all that they have when they are studying. Studies in the Faculty gave quite a broad, but a high-quality education, which gave me a foundation for my further career in many fields. It is also important to learn foreign languages, and VMU is the best place for that – learning languages (not just English) opens many doors to further study and work in any corner of the world. And, lastly, it is important to take all that you can from the lecturers, who are very dedicated, and to always believe in yourself – because I really know, that VMU Faculty of Political Sciences and Diplomacy students graduate with more than good knowledge, which is why they are regarded as very promising, dedicated and responsible professionals. There are many examples of this, at least in the Lithuanian public governance. Which is why it is important to believe in yourself and reach for your goals, and your studies will give you a good foundation.
What are your proudest achievements?
I am always proud that I had a chance do my doctor's degree in the Faculty of Political Sciences and Diplomacy and finish it successfully. Although I had to coordinate my studies with my work in the Ministry of Foreign Affairs and at the Permanent Representation of Lithuania to the EU in Brussels. It gave me the chance to start working in the academic field, where I have been working for more than 10 years. Regarding diplomacy, it is nice, that foreign diplomats in Berlin showed great trust and elected me as the President of the Economic Diplomats club residing in Germany. This position is a great responsibility, but also a significant evaluation of my career as a diplomat. All this helps me to always move forward and try to improve, so I could contribute more to the well-being of the country of Lithuania and its people. I feel a great responsibility and duty for that.
What would you like to wish to those that dream of studying, or are planning to study in the VMU Faculty of Political Science and Diplomacy?
First of all, I would wish to think if it is definitely their area of interest. Studying Political Science gives you great chances for future employment, but it is important to enjoy it. If you are sure about your choice, then I wish you to take all you can get, because the environment and staff of the Faculty will definitely provide you with the best possible conditions to improve and grow, not just as personalities, but also true professionals in political science. I can really attest to that, because I myself am very happy to have had this opportunity to study Political Science and later deepen my knowledge in the master's of Diplomacy and International Relations.
When did you start and finish your studies? Which programme?
I studied in VMU from 1999, when I was accepted to the Political Science bachelor's program. In 2003 I continued to study Diplomacy and International Relations in the same faculty, and in 2005 I was accepted to the doctorate program, which I finished in 2010, when I received my doctor's degree in Political Science.