Olivia Wells: VMU is Destined for Great Things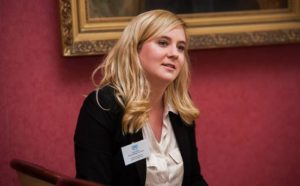 Seeking to increase student awareness and participation in political life, to nurture tolerance and human rights and to analyze global problems, the United Nations Student Club was founded several years ago at Vytautas Magnus University in Kaunas, Lithuania, eventually evolving into the Lithuanian United Nations Youth Association, LUNYA. This summer the association was recognized as an official member of the World Federation of United Nations Associations (WFUNA) and was invited to implement joint projects with Columbia University in New York, USA.
The head of LUNYA, Olivia Wells, is an American VMU student. She shared some of her impressions about the studies in Lithuania and Europe and discussed the youth association's projects.
Why did you choose to study at VMU?
Majoring in Classics at University of Southern California brought me to Athens, Greece, where I spent a year studying abroad. I fell in love with Greece and Europe in general and decided that I wanted to continue my studies in Europe. While in Greece, I had made the decision to change my focus to international relations and human rights and felt that I would get more out of studying in Europe than in America. Additionally, even with scholarships, studying in the U.S. is ridiculously expensive and was becoming more and more difficult for me to afford. I also thought it would be unique to study international relations in a part of the world that I knew very little about – we don't learn much about Eastern Europe in the U.S. (except as a monolithic bloc with historical ties to Russia).
What do you think about the quality of studies at VMU, the community etc.?
VMU really surprised me. Coming from a big school like University of Southern California, it's nice to be in a smaller environment where students can develop meaningful relationships with teachers and the administration. Any place where you live or study is what you make of it. So, if you are an active student, VMU is a great school because the professors and administration are more than willing to work with you to help your projects come to life. There are a handful of really great professors that are already teaching there. My program at the Faculty of Political Sciences and Diplomacy is very new and it still has some kinks to work out. But the administration is very open to working with the students to find out what those kinks are and search for solutions.
Additionally, as Kaunas becomes more and more international, the opportunity to host international events with other universities and students from all over the world increases. Though they both still have some growing pains to go through, I think the city and the university are potentially destined for great things.
How did you decide to found the Lithuanian United Nations Youth Association (LUNYA)? Is this your project?
Actually, LUNYA evolved out of the United Nations Students Club (UNSC), which was an organization that I became involved with shortly after its founding. When I joined the club, there were a lot of internal problems and disagreements among its members, which meant it was not functioning properly. When I was voted in as the new president a few months later, we revamped the club and began actively pursuing new members and new projects, establishing ourselves as a successful student organization (and one of the most active on campus). VMU took notice of our enthusiasm and outreach and decided to work with us to take the club one step further – thus began our cooperation with the United Nations and our transformation into the association we are today.
Why do you think this organization in VMU is so important for Lithuania? And why is LUNYA important in Europe?
Through LUNYA we hope to put Lithuania on the map of youth organized EU-wide events. There are not many youth organizations in Lithuania hosting or attending large-scale EU events. There are also not many large-scale youth organized events taking place in Lithuania. We hope to fill this gap by developing and promoting EU-wide events (such as transnational Model UNs, Youth Forums, and various other symposiums) that would be hosted here and sending students from Lithuania (international and Lithuanian) to represent this country in events throughout Europe.
Is LUNYA an official member of the World Federation of United Nations Associations (WFUNA)?
Yes. As of July 2016, LUNYA is an official member of the WFUNA – representing the youth wing of the United Nations Lithuanian Association. I had a meeting at the United Nations with the youth program officer of WFUNA to finalize the agreement and talk about future projects. On our page on WFUNA's website, you can read about our current projects, our strengths as an organization, and our potential future projects – one of which is organizing an annual Baltic Model UN, which we are hoping to implement in spring 2017.
When you were in Lithuania and participated in various debates and conferences, in your opinion, what problems are important to Lithuanian youth?
Lithuanian youth tend to be most concerned with political issues having to do with Russia, Eastern Europe, regional security, etc. Given Lithuania's geopolitical history, these concerns make sense. And while LUNYA has hosted several events focused on these topics (and will continue doing so), we also believe it's important to talk about other pressing issues occurring in Europe and around the world – in an effort to promote understanding and tolerance.
One thing we have noticed is that the majority of students that attend our events are international students. Lithuanian students seem more reluctant to spend time attending extracurricular events, unless they are receiving class credit for their participation. We are currently brainstorming how to get more Lithuanian students involved in our projects.
Can you tell us more about future joint activities between LUNYA and Columbia University in New York? How can VMU professors and students participate in this project?
The Editor and Programs Director at the Council for European Studies (CES), Katrine Øgaard Jensen, reached out to me recently to discuss collaboration with LUNYA. CES is the leading international organization for the study of Europe and works in conjunction with Columbia University. Katrine was familiar with our work and asked if we would be interested in collaborating with CES on a new project. CES is planning on publishing a blog and they want LUNYA and VMU to be the primary contributors to it. It's a great way for students and professors at VMU to have their work published by a well-known and highly regarded. We have not finalized the collaboration yet, but are very excited about the future prospects.
In your opinion, how can VMU contribute to global education and sustainable development?
VMU can contribute by continuing to work with student organizations to host events that raise awareness of these issues. I think these events are the key to engendering a culture of tolerance and understanding among Lithuanian youth. One thing I would like to see is sending students to more international events that have to do with global education, sustainable development, and human rights. The benefit of VMU students attending these events is two-fold: the students would gain indispensable knowledge that they could then impart on their fellow students upon their return and the students can act as ambassadors to promote Lithuania and VMU abroad.
What about your future plans, will you return to Lithuania? Will you continue LUNYA projects and activities?
I will continue working on LUNYA projects until the end of this academic year when I graduate in the spring, at which point I imagine I will still be involved with the organization remotely. I am working closely with Lithuanian correspondents at the UN to continue expanding and building on LUNYA's past work, and I hope by the time I leave the organization we will be established well enough for the next president to take over easily.
As for my future plans – I will be working with the U.S. Embassy in Athens, Greece this spring and the refugee/immigrant NGO, Praksis, while writing my bachelor's thesis. I hope to then work as a Fulbright scholar for the 2017/2018 academic year, after which I will pursue my master's degree in Europe. Even though I will most likely not pursue a master's degree in Lithuania, I plan on retaining my ties to the country for many years to come.
Susijusios naujienos